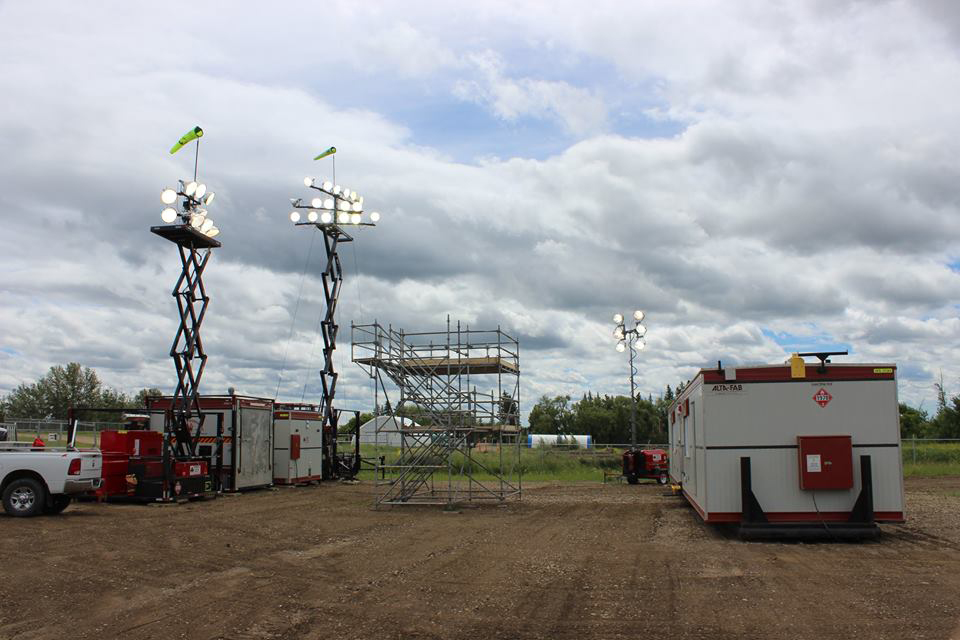 1
Close
CSG – Combo Scissor Generator
60-70kw generators with multiple plug-ins
Internal fuel supply and 1000 litre external fuel tank
Scissor lift for increased safety and convenience
10-1000w lights on independent swivels for 360 degree work lighting at 32ft height
5
Close
CSGv2 – Combo Scissor Generator (Ver.2)
 90 + 120 kW models
Bi-fuel operation, can run up to 70% natural gas – 30% diesel
18 lights able to swivel for 360 degree lighting
Multiple plug-ins with multiple voltage supplies
3
Close
CWT – Combo Water Tank
2500 gallon capacity
Stepper / lighted fill system can be viewed from a glance
Insulated / heavy walls for maximum heat efficiency
4
Close
CWC – Combo Wash Car
Clean washroom areas for site crews with access to hot water, built with wellsite quality.
Separate-Men's & Women's
400 gallon water storage
Outside lighting
Hot and cold water supply
Winter ready
2
Close
CFSW – Combo Fire Suppression Water
This water storage tank was built to go alongside our fire suppression unit giving it extra capacity and also a transfer pump to retrieve water from on site water sources.
6
Close
SCAFFOLDING
Wellhead | Facility | Construction | Hanging | Platform | Walkovers
Fully customizable for any application big or small, we have the equipment, experience and ability to provide a service that will suit your site requirements. With our 24 / 7 service you won't be waiting for us to get the job done!
7
Close
LT – Light Tower
Hydraulic masts and 6 lights, increase safety and light spread. LED and MH light models available.
Hydraulic mast for increased safety
Low fuel beacon
Multiple plugs for site power
8
Close
Double E – 12 & 14 wides
Our well-site accommodations are built with years of experience and quality in mind giving them an added touch that is needed in your home away from homes
All of our well-site trailers are fully equipped with modern amenities including leather coaches, TV/DVD players, water coolers, microwaves and satellite systems